Nothing runs like a Mustang. A traditional symbol of American muscle cars, they've had their own unique look and feel for decades. Over the years, they've been altered and improved, while never losing that quintessential "Mustang" nature. There are a lot of ways you can customize your Mustang, to truly make it your own. One of the best is through the rims. In this blog, we'll go through some of our Project 6GR black rims for Mustangs. We'll also lay out some reasons that our rims are better than the rest.
Project 6GR Black Rims for Mustang
Before we began making Mustang rims, we were Mustang fans. After looking at them for a long period of time, we wanted to make the "perfect setup," the best set up possible. Of course, to do that, we had to look at everything. When we say "everything," we don't mean that as an exaggeration – we mean that we looked at everything. We worked very closely with a wide range of both owners and enthusiasts. We saw what worked splendidly, and we also saw what didn't work at all. Through all of that and a lot of trial and error, we're now able to offer our customers the perfect setup.
The Perfect Setup
It took well more than a year to come up with our setup. In fact, we had to custom tailor more than five hundred Mustangs before it finally came to us. One thing we designed our set up to do: clear all brake applications. This even includes the GT Performance Package, or as you may know the "GTPP." This fitment that we spent so much time on runs 20 x 10 front with a 35mm offset. Additionally, it's 20 x 11 with 50mm. That's not all, though. We also bring out 19'' fitment in 19 x 10 front with a 35mm offset as well as 19 x 11 with 50mm rear.
Why Mustangs
It's important to state how much we love the Mustang. When we look at it, we don't just see a vehicle. Sure, it's one of the most impressive cars to ever ride the road. But, more importantly, we see the Mustang as a masterpiece. More than a vehicle, it's a work of art that you can ride. Everything we do at Project 6GR is a homage to it. Our work honors the Mustang, and through doing so, hopes to make this gorgeous car look just a little bit better. We've said that the Mustang's design is "simple, yet masculine." That's exactly right. The seven spokes speak to that.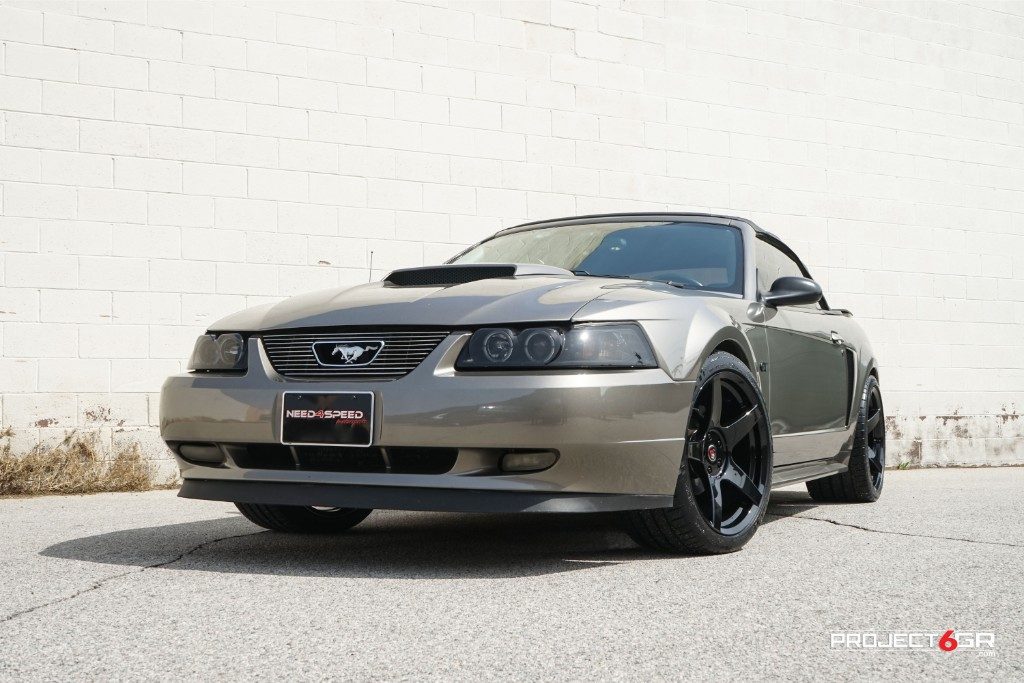 More than Just Rims
We know that no two Mustang owners are the same. Everyone approaches their Mustang their own way. That's part of the reason that we have so many different rims and rim sizes available: so that we can appeal to as many different Mustang owners as possible. Beyond that, we also have different setups of the rims themselves, too. Many of our rims are available in "staggered setup," "squared setup" as well as "standard setup." However you want your Mustang to look, we can offer rims that help it to look that much better.
Beyond that, there's a lifetime structural defect warranty on our rims. We want your Mustang to look as great as you do. That's why we've made sure to maintain our JWL and VIA certifications. On top of that, our rims are compatible with OEM TPMS sensors, too. Rims are so much more than just what your Mustang's wheels are on – they're an expression of your style. Rims make a statement. The rims we offer make a bold one.
While our "black" rims are some of our most popular, you can find Mustang rims that are much more than just black at our site. Indeed, we have rims that are as striking as "brushed candy apple red" as well as rims that stand out as much as sterling "gloss brushed bronze/gold." Our rims come at different price points, too. You should be able to find the rims that will make your Mustang look its very best, no matter what kind of Mustang you're driving. So, we have rims for Mustangs that cost over five grand, and we have rims for as little as $600.
We take great pride in helping people to make their Mustangs their very own. When you come to our site, you'll see just how deep and vast our catalog of Mustang rims is. That being said, we absolutely understand if you're a little new to the world of Mustangs, or if you aren't sure exactly which kind of rims are right for your Mustang. Let us help. We're always glad to talk to fellow Mustang enthusiasts. You can give us a call at (888) 714-7467 or send a message through our site and we'll be glad to help you figure out the right kind of rims for your Mustang.