Almost since it was available, the Mustang has had a reputation as one of the most powerful muscle cars. This is good with reason – the Mustang is one of the most impressive vehicles to ever go out on the road. You can list all of the different technical specs about the engine and the design of the Mustang, detailing the horsepower and the design, but when you see a Mustang, you know – it looks badass. That's part of what's so compelling about this vehicular masterpiece. To that end, we offer some of the best quality black Mustang rims (and more) on the market. In this blog, we'll go over some of our rims (black and note) as well as what goes into them.
Our Quality Black Mustang Rims
Rims are so much more than just a part of your car – they're a way to make your car truly standout. When your rims look great, it makes the rest of your car look that much better. We understand that, which is why we made rims that live up to the Mustang name. One thing we wanted to make sure we paid homage to was the true American muscle feel of the original Mustang. That's where the "simple, yet masculine" design of our rims comes from. Those seven spokes make a powerful statement about what American muscle truly is.
Safe and Stylish
Of course, there's more to great rims than just having style to burn, too. We've made our rims as safe as possible. When your rims are safe, it gives you the peace of mind it takes to really enjoy your Mustang. That's why we make sure that our rims pass the "JWL" and "VIA" Certification. "JWL" stands for "Japan Light Alloy Wheel." These standards measure the safety of aluminum road wheels. While these standards were defined by the government of Japan, they're mostly accepted worldwide for a majority of road conditions. The "VIA" or "Vehicle Inspection Association" is consigned from the Japan Vehicle Inspection Association. We're proud to say that our rims pass with flying colors.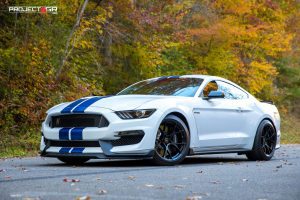 Before We Built, We Studied
We didn't just come up with our perfect setup and rims out of nowhere. Long before we ever started working on Mustangs, we were just people who loved Mustangs. Then, when we realized what we wanted to do, we made sure to watch and learn as much as possible before we got started. So, we took over a year of experience in just custom tailoring Mustangs before we offered our setup. No less than five hundred Mustang fitments were completed before we realized what we could do. Through hard work, dedication and studying, we're proud to offer rims for people who love Mustangs as much as we do.
What Our Rims Do
We have a mission statement of sorts here at Project 6GR: "Increase performance… decrease mass… and look badass while doing it." In turn, that's a fine description of what our Mustang rims can do for your vehicle. "Increase performance" sure fits – with our rims; you can get more out of your Mustang than ever before. Many of our customers report back, amazed at how much more performance they could get from their Mustang just after putting our rims on. By that same token, you'll be able to "decrease mass" too – your Mustang will look sleeker than ever. As for the "look badass" part, well, that's rather self-explanatory.
As we worked with many different Mustang owners, we learned something: each of them had their own specific wheel setups in mind. We listened to them, and we saw what worked best. From there, we were able to devise what we call "the perfect setup." All of that listening also enables us to offer the kinds of features that all Mustang owners, no matter what model they have, seem to want. These are features like a lifetime structural defect warranty with real teeth in it. It also includes compatibility with OEM TPMS sensors and more. While black rims are some of our most popular rims, they sure aren't the only kinds of rims we have available. Indeed, you can get our rims in a variety of colors.
Some of our colors are more than one color, too. Many Mustang owners absolutely love our rims with different colored faces and bottoms. Those multiple colors really make these rims stand out from the rest. Many of our customers know what they want their Mustang to look like, but they may not be 100% sure of how to get there. We get that. We absolutely love talking with any and all Mustang enthusiasts. So, if you want more information about our rims, give us a call at (888) 714-7467 or head to our site. We'll sit down with you and figure out exactly how to go about making your Mustang look as great as it can.